CTK Racing Gearing Up for Starting Orders..
18th May 2015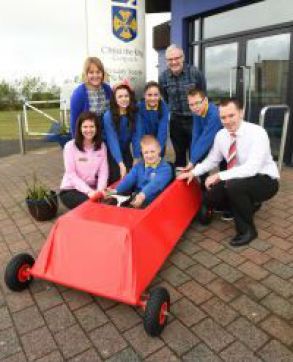 On Saturday 23 May 2015 Year 7 pupils will race their electric-powered GreenPower Goblin cars that they have designed, and built themselves against other teams from across Ireland, as part of an engineering education initiative.
The CTK Racing team car is propelled by an electric motor and has been completed by Mr Meenagh and the Year 7 pupils, with help from Mark Deehan from Sacred Heart College.
The team will race their car at the all-island Ulster University 2015 Greenpower NI & IE Championships at Nutt's Corner Circuit against a grid of up to 30 teams from as far afield as counties Wicklow and Kildare.
The Championships are held to allow pupils to competitively assess their efforts at running their racing team, and the cars which are capable of speeds up to 30 mph!
The car is used as a hands on training aid within the Science, Technology, Engineering and Mathematics (STEM) areas of the curriculum, but can also be used develop understanding within other areas of curriculum such as the arts, literacy, the world around us, personal development and mutual understanding.
Everyone at Christ the King is wishing the team well on their big day at Nutts Corner!