P5 Fire Safety Talk
2nd Dec 2015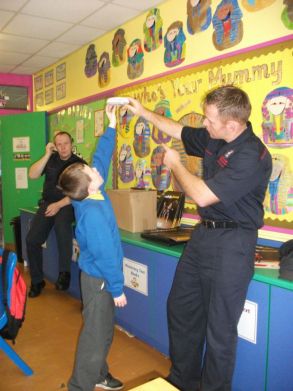 On Tuesday 1st December we were lucky to have Firefighters Eoin and Damian come to visit our class. They brought us safety packs and explained to us how to keep our homes safe. It was really informative and we were able to listen carefully and ask them questions about our homes.
They reminded us that we need to;
know our address and postcode in case of an emergency
plan and agree on an escape route with our families
shut all the doors at night before bed
turn off all electrical items at night except for the fridge and freezer
only use the number 999 for emergencies
test our smoke alarms every week- Eoin gave us a handy tip- do it on the night the bins go out!
change all old adaptors for the new type strip adaptors.
We really enjoyed their visit and learned so much from it.
Thanks Eoin and Damien!