Playground Friends
8th Nov 2013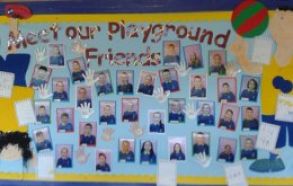 In October we commenced our Playground Friends programme, interested pupils applied for the position which gives pupils the opportunity to develop their social skills, boost their confidence and have a sense of responsibility.
Playground friends have now completed their first four weeks shown fantastic leadership qualities, shared problem solving ideas and been a helping hand to staff.
During our recent assembly we celebrated the caring nature and commitment by saying a special thank you to Matthew and Caelan P7 and Courtney and Nicole P6.