St. Enda's Silverware Comes to CTK!
30th Jan 2015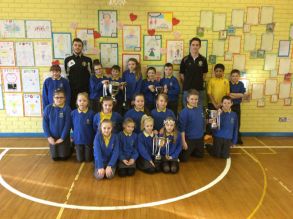 Representatives of Omagh St Enda's visited the school this morning to showcase some of the success they have enjoyed this year on the football field and in the Scor also.
Pupils had the opportunity to ask questions about the club, what they offer, and the important role it plays in the community.
They then had the chance to have their photo taken with some of the players and the silverware on display.
Many thanks to the representatives of the club.